Your Go-To for Shower Glass Door Installation
A shower glass door can be an excellent addition to your bathroom. They are easy to clean and don't let in any heat. They also make the space feel larger and more open.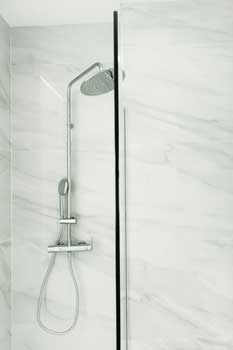 We have everything you need if you're looking for a new shower glass door! We have doors in several different styles and colors, so you can easily find one that fits your bathroom aesthetics perfectly.
They can be installed on a shower stall or used as a standalone door. Shower glass door installation is efficient when done by Groutless Showers. It comes in many different styles, including frosted and clear glass and semi-transparent options.
Our shower glass doors come with a variety of benefits:
Glass is easy to clean and maintain
The door can be opened from either side, depending on your preference
You can easily adjust the height of the door so that it works with any shower stall or tub
The door will last for years without any problems
Choosing a Shower Glass Door
Shower glass doors come in a variety of options, from sliding doors to swinging doors and even pocket doors. They can be installed on any type of shower enclosure, including frameless or framed enclosures. No matter what kind of shower door you choose, they're sure to add a touch of elegance to your bathroom.
If you want a more natural look for your bathroom without compromising indoor privacy, then consider installing glass shower doors today.
Give us a call to schedule an appointment for your next bathroom reno today!